Clonlara School's Online Program provides a comprehensive distance learning option for students who are looking for "ready-to-go" courses. We offer a wide variety of self-paced, teacher-supported online courses for students in grades 6–12, with the added support of Clonlara advisors. Students can enroll full time, for a semester, or for individual courses.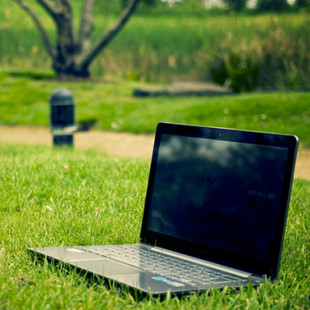 How It Works
Clonlara's online students have the freedom to learn and complete coursework at their own pace, ensuring them the flexibility to work whenever and wherever fits their busy schedules. Students can start the program at any point in the year and receive guidance from Clonlara advisors who help set their educational goals, support and monitor their progress, and assist them in the development of a self-designed course. All of our online courses include a teacher to answer questions and grade assignments, and Clonlara's documentation process provides families with official records that seamlessly transfer to other schools.
One Semester Enrollment (6 Months)
High school students enrolling for one semester will choose 3 credits from the High School Online Program Course Catalog. Middle school students will choose 5 semester-long courses from the Middle School Catalog (PDF). All online students enrolling for one semester will also complete 1 self-designed course that they create with an advisor.
2020–21 Tuition
6–8
Full Time
$3,600
One Semester
$2,600
9–12
Full Time
$4,000
One Semester
$3,000
Registration
| | |
| --- | --- |
| 1st student | $200 |
| Sibling | $50 |
Additional Fees
| | |
| --- | --- |
| Graduating Student | $150 |
| New Senior | $1,000* |
*This rate applies to high school seniors who were not enrolled in Clonlara the previous school year and who wish to graduate in one year. Contact us to enroll and be sure to review our Senior Policy.
For your convenience, Online Program tuition may be paid by credit card or check in up to four installments.
| | |
| --- | --- |
| Installment | To Be Paid |
| 1st | Upon registration; includes all fees |
| 2nd | 30 days after registration |
| 3rd | 60 days after registration |
| 4th | 90 days after registration |
Read more about our tuition, fees, and payment options.
All Clonlara Online Program students receive:
Access 24 hours a day, 7 days a week to comprehensive, "ready-to-go," online courses, which include readings, links to resources, and more.
A teacher for each individual course. Teacher support includes lesson review, grading, comments, and answers to individual student questions.
Educational guidance and support from Clonlara advisors and assistance developing self-designed coursework.
Official private school records, documentation, and transcripts.
In addition, high school students receive:
Information on creating learning plans, earning credits, and progressing toward a high school diploma.
Access to the Clonlara Commons—our web portal—which contains online forms and the student's transcript.
Accredited diploma upon completion of Clonlara's graduation requirements.